About Greater Texas Water Company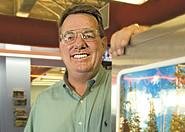 Reggie Nisbett
Founder Greater Texas Water Company

Thank you for visiting our website!



I'm Reggie Nisbett, founder of Greater Texas Water, and my goal is to save you money on your bottled water expenses by bringing you the purest water money can buy without the hassle of bottles!

We deliver the cleanest water you can drink - 99.9 percent pure, regardless of the source - by distilling your own water. The process produces consistently fresh, high-quality water. Its purity means security. Safe, clean water from our steam-distilled systems brings peace of mind.

Distilled water systems mean significant savings - often cutting an office's water expenses in half - when compared with the cost of renting bottles plus coolers. Our office systems also save time, space and hassle. The high quality and long life of these distillers will generate savings for years.

I invite you to browse our water products and to experience the pure fresh taste of steam distilled water by accepting a free trial.




What Our Clients are Saying
"I chose Greater Texas Water because it was more cost-efficient than getting bottled water and I liked the idea that it was distilled. With bottled water, they say it's spring water but you don't know what's getting into it. And we don't have the storage space for those big bottles. Everyone likes the machines and the water really well. We save on water costs, and we get real quick service. All I have to do is call him, and he's here that afternoon."

"The water from Greater Texas Water is fresh, clean and cool. It's good stuff. The machine is small and compact. Reggie takes care of the service; he shows up on a regular basis to double-check them and you hardly know he's here. The invoice comes in, and it's correct and on time. It's the perfect service."

"It's great. The machine is easy to use. The water seems pure and isn't colored, not like bottled water, and that's good for us because it keeps the actors refreshed. It's better than bottled water, that's for sure. We found bottled water service to be inconsistent, the billing difficult and exorbitant. The real thing is I don't have to argue with the sales guy about him wanting more machines and dealing with bottles that get in the way."